Welcome to the Queen Blog!
Be the first to discover new products, read interviews with inspiring bakers and stay up to date with new trends.
baking trends
Top Baking Trends for 2020
Welcome to this century's roaring twenties, where baking is characterised by banana flour and intentionally burning your bakes (yes you read that correctly). Read on for all our weird and wonderful baking trend predictions for 2020. Hero image credit: Butternut Bakery
Read more ›
one bowl wonder
Ten Easy One-Bowl-Wonders
Hate washing up? So do we! But don't let that compromise your sweet tooth. Baking has a notoriously bad reputation for creating a mountain of dirty dishes, but it doesn't always have to be that way. Forget "baking projects", AKA those lengthy recipes with multiple components that require every utensil in your kitchen.  Instead, we've rounded up a selection of our favourite "one bowl wonders". Otherwise known as the Holy Grail for time-poor bakers, this collection proves that baking can be totally fuss-free, without compromising on the final product.
Read more ›
Christmas
Best Edible Gifts for Christmas
There are many good reasons to skip the shops this year and bake your Christmas presents instead. Firstly, who doesn't like fudge? A batch of something sweet is perfect for those "hard-to-buy-fors", and won't get lost amongst all the socks and boxes of Favourites. Secondly, two little (terrifying) words: shopping centres. If you're anything like us, you'll be avoiding the Christmas madness at your local Westfield at all costs. Why brave the carpark when you can whip up presents in the comfort of your own kitchen? And finally, gifting something home baked is such a personal way to say thank you and spread the Christmas cheer. From school teachers and colleagues to nurses and favourites aunties, we've got an edible gift worthy of every loved one in your life!
Read more ›
Cheesecake
Top 15 Prep Ahead Christmas Desserts
As the Christmas countdown begins, so does the season of list making, present buying and stretchy pant wearing ahead of that perfect festive feast, topped off with delicious Christmas desserts that you're whipping up for the family – no pressure! While it's the most wonderful time of the year, it's also the warmest here in Australia, adding that extra level of stress (and sweat) when baking for loved ones. So this year, do yourself a favour and cut out any last minute preparations with our top 15 favourite prep ahead Christmas desserts.
Read more ›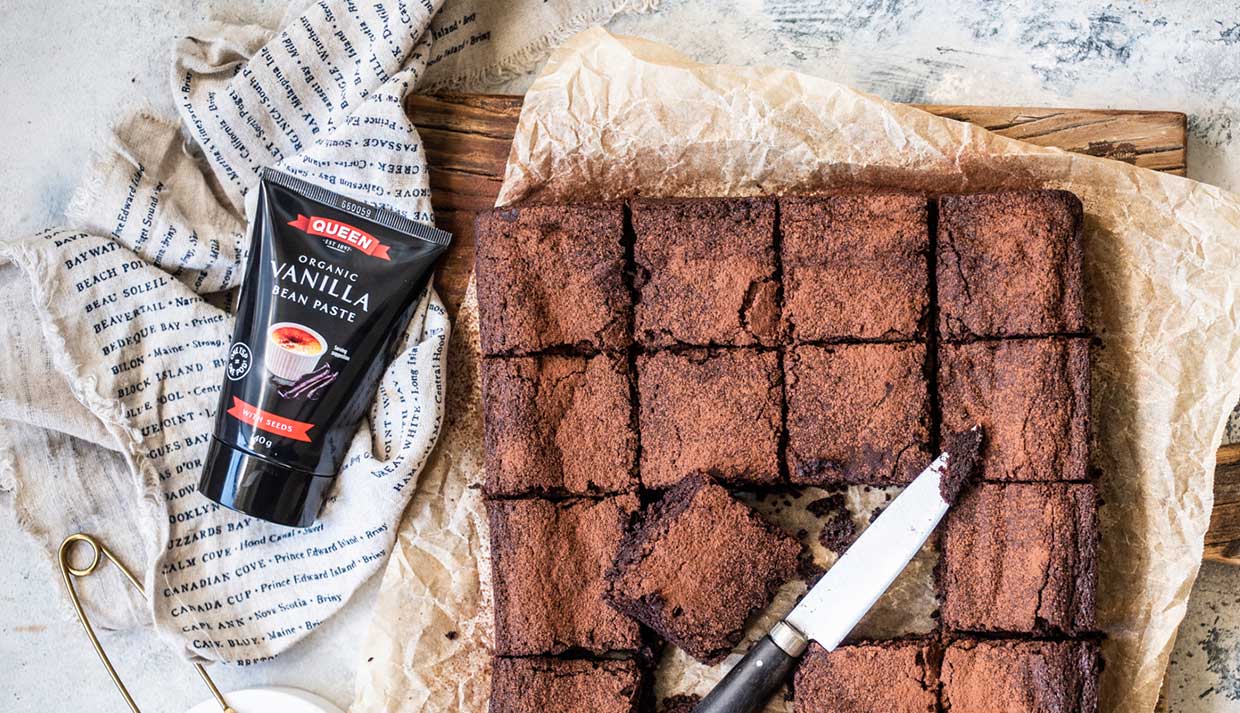 brownies
How to Use Vanilla Bean Paste
Each and every Queen Vanilla has a strong place in our hearts but there's no denying that a generous squeeze Queen Vanilla Bean Paste adds a little somethin' that truly elevates your sweet treats. Our Vanilla Bean Paste is the real deal, with no added bean fibres to bulk out or imitate the appearance of seeds – just straight up pure organic vanilla with thousands of those beautiful little seeds suspended throughout. It's an extremely cost effective alternative to using vanilla bean pods, with one teaspoon providing the equivalent flavour of a whole pod. While you can use our Vanilla Bean Paste in any recipe that calls for Vanilla, there's quite a few occasions where it is really the star of the show. Read on for how to get the most from this special ingredient.
Read more ›
biscuit
Pantry Staple Recipes
Ever found yourself with an insatiable craving for sweets? Unexpected guests? Prefer to stay in your PJ's rather than brave the shops? Yeah, we know the feeling. Pantry staples are your get out of jail free card when a trip to the shops is simply out of the question, and you'll be pleasantly surprised to see how much you can whip up with the bare essentials. These recipes don't require any fancy or expensive ingredients, so they're also perfect for baking on a budget. You may notice an abundance of vanilla in this list; that's because it's the secret ingredient that turns a simple recipe into something truly indulgent!
Read more ›
baking tips
Everything You Need to Know About Cake
From cakes that sink faster than the titanic to cakes with more craters than the moon – a little know-how can make all the difference when avoiding a cake catastrophe! To help you on your way to becoming the best home baker you can be, the Queen Team have put their heads together to create our list of most commonly asked cake questions and answers.
Read more ›
announcement
Bake & Decorate with Queen
You might have spotted a few changes in the baking section of your local supermarket lately, and we've been bursting to share our big news! Some of our much loved products have had a makeover, and we're very excited to welcome our favourite Dr. Oetker products into the Queen range.
Read more ›