Delicate Recipes – Sponge Cakes
Recipes that call for folding or need a lighter hand are better suited to a thicker Vanilla that is easier to incorporate and won't sink to the bottom. Since sponge cakes rely on aeration for their delicate soft texture, Vanilla Bean Paste is your best support against the dreaded sunken sponge.
High Fat Recipes – Cheesecakes
Fat (unfortunately) is the enemy of flavour. This is because fat coats your taste buds, hindering your ability to discern the flavours within your dessert. High fat recipes mean calling in the big guns! Stronger types of vanilla such as Vanilla Bean Paste help to cut through the fat so you can enjoy the rich flavour and aroma that Queen Vanilla has to offer. Our New York Baked Vanilla Cheesecake has generous dose of Vanilla Bean Paste (and in the base for good measure) for a full flavour punch!
Low Liquid Recipes – Meringue
Meringue is fussy enough already, so any additional liquid in your recipe can spell disaster. The solution? Vanilla Bean Paste! While Vanilla essence or extract are ideal for high liquid recipes such as cakes, pancakes and sauces, paste is better suited to low liquid recipes where you don't want to affect the consistency of your mixture. Our Eton Mess Cupcakes use Vanilla Bean Paste in the cream (high fat) and in the meringue kisses (low liquid) for the perfect paste pairing.
Simple Recipes
If you're anything like us, you eat with your eyes and boy do those beautiful vanilla bean flecks build up quite the appetite! Vanilla Bean Paste is a super simple way to make even the simplest bakes look (and taste) extra fancy. Just take a look at our crisp, delicate (and easy) Vanilla Bean Thins.
Chocolate Recipes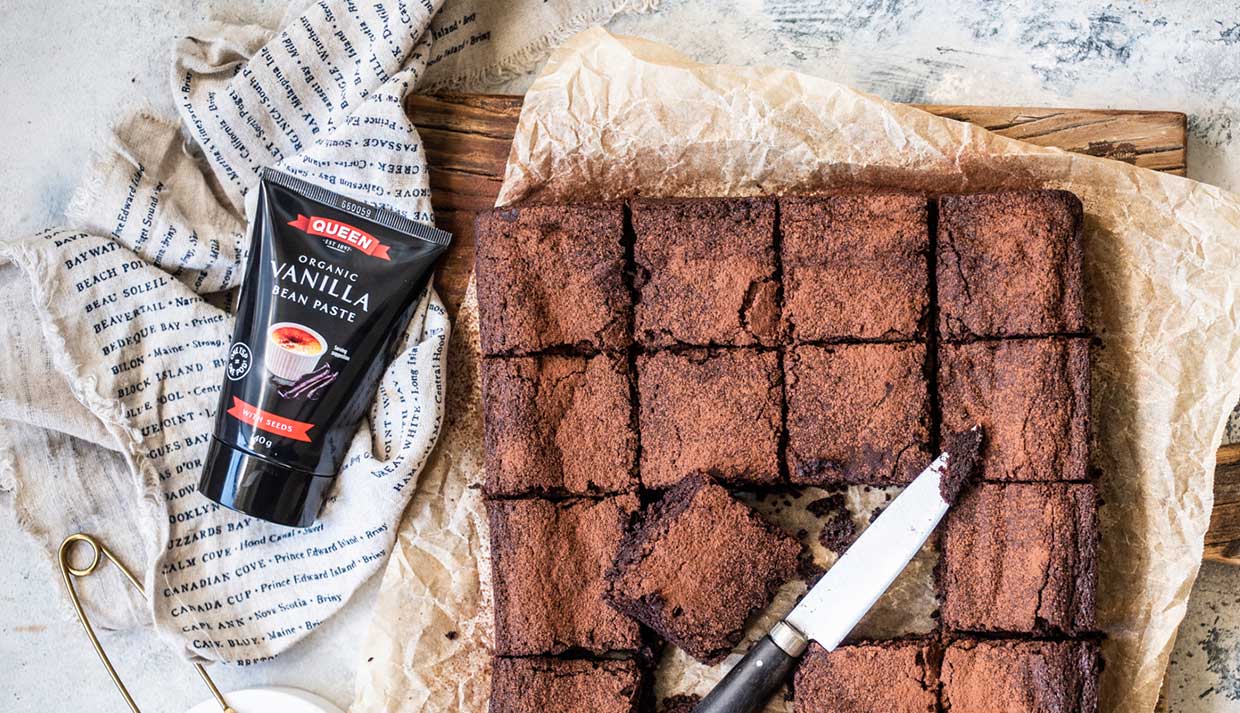 To answer the age old question of chocolate vs. vanilla… We say both! Strong and fragrant, our Vanilla Bean Paste is the ultimate side kick to your chocolatey treats. The bitter notes naturally found in chocolate and cocoa can hide the beautiful flavour complexities within the chocolate itself. Adding a dash of trusty Vanilla Bean Paste gives chocolate a much needed boost, rounding out the bitter notes while elevating the flavour.
Every Day
You don't have to whip up a storm in the kitchen to enjoy the simple pleasures of Vanilla Bean Paste. Sneak a spoonful into your porridge or turn your yoghurt from simple to snazzy with a liberal squeeze. Better yet, shake up your morning routine with one of our favourite (and easy) ways to incorporate Vanilla Bean Paste… Pancake shakers! Just add a squeeze of Queen Vanilla to turn simple pancakes into something extra special.
If you'd like to learn more about using our products, recipe inspiration, and tips for your best baking, head over to the Queen Blog to read more!
For monthly recipes delivered straight to your inbox, along with product information, competitions and special offers, be sure to join our Queen Baking Club.