Welcome to the Queen Blog!
Be the first to discover new products, read interviews with inspiring bakers and stay up to date with new trends.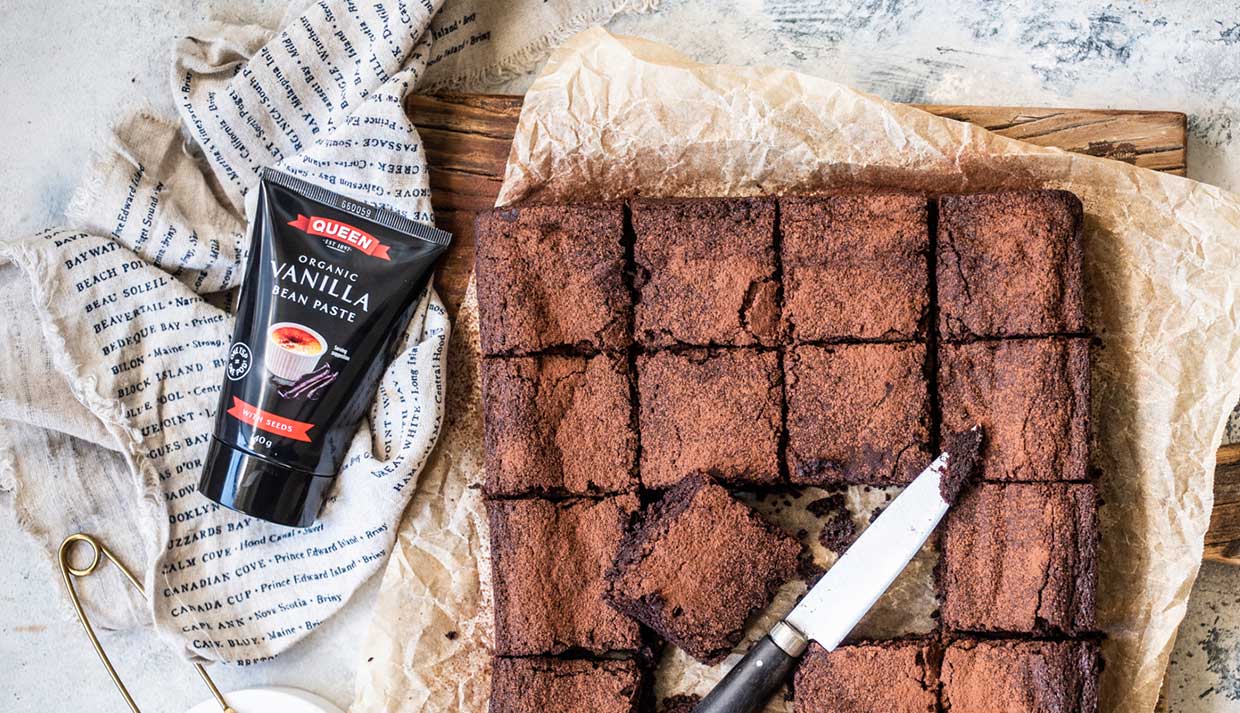 brownies
How to Use Vanilla Bean Paste
Each and every Queen Vanilla has a strong place in our hearts but there's no denying that a generous squeeze Queen Vanilla Bean Paste adds a little somethin' that truly elevates your sweet treats. Our Vanilla Bean Paste is the real deal, with no added bean fibres to bulk out or imitate the appearance of seeds – just straight up pure organic vanilla with thousands of those beautiful little seeds suspended throughout. It's an extremely cost effective alternative to using vanilla bean pods, with one teaspoon providing the equivalent flavour of a whole pod. While you can use our Vanilla Bean Paste in any recipe that calls for Vanilla, there's quite a few occasions where it is really the star of the show. Read on for how to get the most from this special ingredient.
Read more ›
Why Vanilla is Way Better than Chocolate
There is no flavour in the world quite like vanilla. Rich, creamy, warm and thoroughly intoxicating, everything about it is indulgent, but at the same time comforting and reminiscent of home. Here at Queen, vanilla is our world and reason for being. It is the heart of every recipe and for us, is certainly better than chocolate! Vanilla is often compared to chocolate in a flavour war, so to settle this debate we've listed the many reasons why vanilla is the clear winner
Read more ›
essence
Choosing the Perfect Vanilla for your Recipes
With more than twelve Vanilla products in our range, we know that choosing a Queen vanilla can be a little daunting at times. Read on as we help you decipher when to choose extract, paste or pods for your recipes!
Read more ›
blog
What is the difference between Vanilla Extract and Vanilla Essence?
With decades of experience in producing vanilla, the Queen team knows a thing or two about what makes a good vanilla. In this article, we shed light on one of the most topical questions in baking- what is the difference between Vanilla Essence and Vanilla Extract? We think you'll be pleasantly surprised by what you'll find below!
Read more ›
Madagascan Vanilla
Single Origin Vanilla, why is it so special?
As one of the most exotic flavours in the world, the tale of vanilla is rich with history and tradition. Much like fine wine, vanilla beans vary in flavour and aroma according to their growing location, climate and how the pods are cured, making them a very special baking ingredient. To celebrate the launch of our Queen Finest Single Origin Vanilla Extracts from Madagascar and Vava'u Tonga, our Queen vanilla experts are sharing their tasting notes of vanilla beans from all over the world. We hope you enjoy learning more about the spice that we love so much.
Read more ›