Welcome to the Queen Blog!
Be the first to discover new products, read interviews with inspiring bakers and stay up to date with new trends.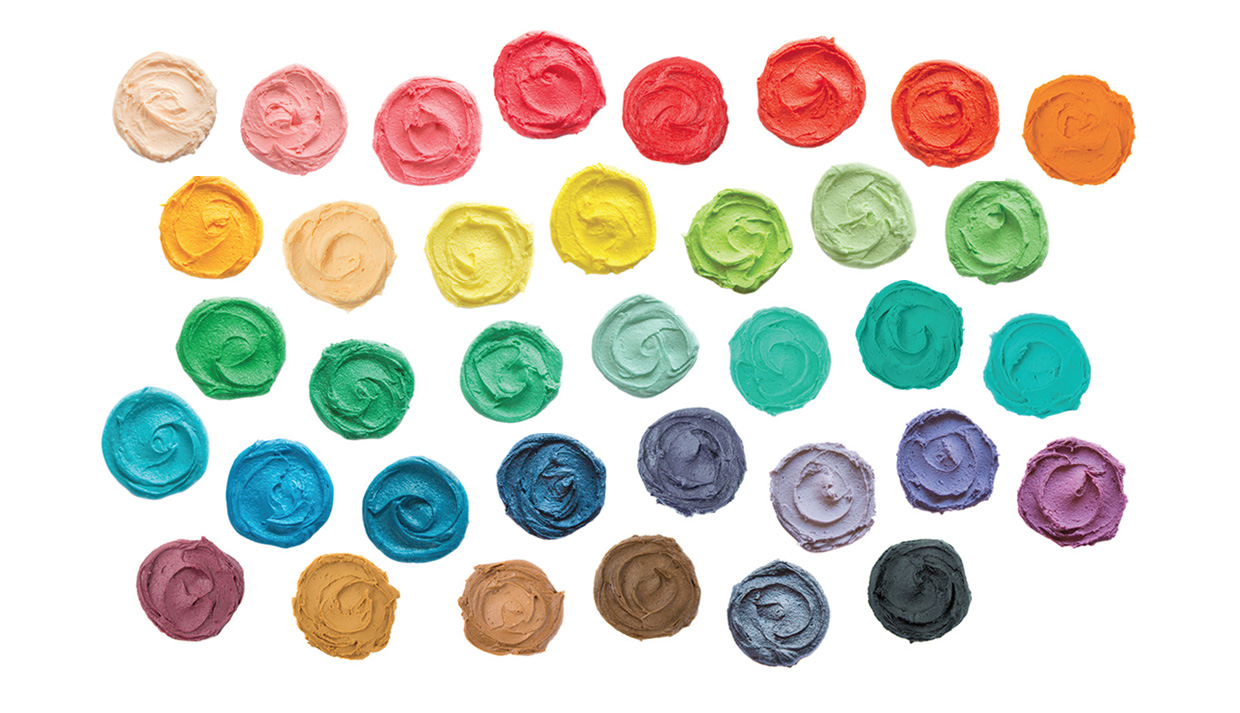 Creative Palettes with Queen Food Colour Gels
Creating those hard to mix shades of buttercream is one thing, but putting them all together into a themed cake is quite another. Our handy video explores how to match shades together to create, ocean, sunset, jewel and woodland themed cakes. To replicate the shades, simply read below and refer to our Food Colour Mixing Chart. 
Read more ›
Gluten Free
10 Tips for Gluten Free Baking
No matter what reason you choose to avoid gluten, don't feel like you have to sacrifice those hallowed hours spent in your kitchen! Gluten free baked goods are widely available at supermarkets, but here at Queen, nobody understands the pleasure of home baking more than we do.
Read more ›
anzac biscuits
How to use maple syrup in baking
Of all the things Canada has gifted the world; easy off oven cleaner, peanut butter, Justin Trudeau… Maple Syrup might just be the best thing out of the land of the maple leaf. Here at Queen, we're grateful for our Canadian friends (and maple experts) who package up a special batch of grade A Canadian maple syrup just for us.
Read more ›
Chocolate
The Best Chocolate Cake Ever
Here at Queen HQ, it's not always a fight to the death between vanilla and chocolate! We still appreciate a good slice of chocolate cake, and vanilla is a fantastic 'supporting ingredient' to help elevate the rich, earthiness of chocolate and minimise the bitterness. But not all chocolate cakes are created equal – from light, fluffy sponges to dark, rich mud cakes, calling out 'the best' seems like an impossible task.
Read more ›
competition
COMPETITION: Mermaid Magic
Calling all budding food photographers and recipe developers… We have a very exciting competition for you! To celebrate the launch of our NEW Queen Limited Edition Mermaid Magic Flavour for Icing, we're looking for delicious recipes featuring this magical ingredient!
Read more ›
Maple
What is the difference between Pure Maple Syrup and Maple Flavoured Syrup?
Have you ever wondered what the difference is between Pure Maple Syrup and Maple Flavoured Syrup? Unlike Maple Flavoured Syrup which is a blend of sugar, water and flavour, Pure Maple Syrup is the pure sap of maple trees. While they share a similar name, these syrups are worlds apart in taste and quality! Read on for a deep dive into learning more about this precious, pure and vegan syrup that tastes oh-so-delicious on our morning pancakes.
Read more ›
Baby Shower
Another 10 Baby Shower Cakes that are Totally Worth the Effort
Here at Queen, we strongly believe that every important celebration should be marked by an incredible cake. While Pinterest is often the place to start for inspiration, a quick search for baby shower cakes reveals all the same old pastel fondant options – boring! Instead, we've done the hard yards for you to round up ten stunning and far more original cakes that are totally worth the effort, with a few hot Queen tips thrown in for good measure.
Read more ›
Chocolate
What's so magic about Magic Cakes?
From classic vanilla and chocolate to more adventurous matcha and even mermaid flavour (yes, you read that right) Magic Cakes are an internet favourite. But what on earth is the secret behind those three delicious layers, created from one simple batter?
Read more ›