A triple-whammy of extract, paste and pods, there's no shortage of fragrant vanilla here for all our vanilla lovers out there! Served with lashings of buttermilk glaze infused with even more, you guessed it… Vanilla.
We knew this fragrant pav would make the cut – isn't she a beauty! Dressed up with fresh raspberries and a drizzle of rosewater syrup, this pink meringue is so easy to make with our new Raspberry Baking Paste.
Sweet and crunchy on the outside, soft and tender on the inside, this one-bowl-wonder is made with natural yoghurt and olive oil to keep it moist and delicious. The secret Queen ingredient to make it extra special? A generous drizzle of vanilla maple glaze!
With fragrant cinnamon and double vanilla, we're not surprised this indulgent fudge recipe went viral over the festive season! One thing we learned: some first-time fudge makers were a little impatient… To ensure your fudge sets completely, be sure to bring the mixture to a boil then allow it to simmer for 5 – 6 minutes, stirring continuously.
This show stopping recipe brings together all three of our fruity Baking Pastes in one incredible layer cake! Smothered in a crushed Fruit Tingle buttercream, we're not surprised that this nostalgic mash-up became a 2017 highlight.
Warm, gooey and made with a not-so-secret ingredient, this boozy self-saucing pud is winning hearts all over Australia. A cheerful spike of Baileys and an extra drizzle straight from the oven is all you need for a mouthful of pure bliss.

Our Sour Cream Apple Slice has become a Queen afternoon tea classic! A soft vanilla sponge cake smothered in sour cream and studded with tangy apple, serve this with a cuppa for a little slice of heaven.
This winter-warmer clearly struck a chord with date lovers across Australia, coming in at number eight of your most loved recipes. Serve warm with lashings of whipped maple butter and a hot cup of tea for an indulgent winter treat!
When we created our Cinnamon Baking Paste, we knew for sure that the heavenly combination of cinnamon and vanilla would be a hit among our Queen Bakers. Soft and buttery with a crunchy cinnamon crust, it's no wonder you're all making oodles and oodles of these fragrant Snickerdoodles!
Already popular in its own right, our Pastel Rainbow Cheesecake had a mythical addition this year in the form of our Unicorn Flavour for Icing. It not only looks impressive with its pretty pastel rainbow layers, it tastes pretty magical too!
The custard tart fans amongst you flocked to this easy recipe for its rich, creamy custard and delightful hint of warming cinnamon. Moreish beyond belief, stopping yourself from eating the entire batch is far easier said than done!
No, you're not imagining things, we certainly do have two Passionfruit Vanilla Slices on this list! Thanks to our new Passionfruit Baking Paste hitting the shelves in 2017, our bakers loved the ability to add a burst of passionfruit flavor without any pesky seeds and create a delicious twist on an Aussie classic!
Always a winner here at Queen HQ, our Passionfruit Iced Vanilla Slice has stolen the hearts of many Queen Bakers too. Creamy vanilla custard, flakey puff pastry, tangy passionfruit icing? Check, check, and check!
Cake so nice, we baked it twice! Since our Vanilla Magic Cake is always such a knockout, we decided to expand our horizons and create a new magical recipe for our coconut rough fans. And boy did you guys love it! We won't be surprised if this hits the list next year too.
It's no surprise to find our famous Vanilla Magic Cake topping your list again, for the second year in a row! With three layers of fudgy vanilla perfection created from one simple batter, pop this in the oven and watch the magic happen.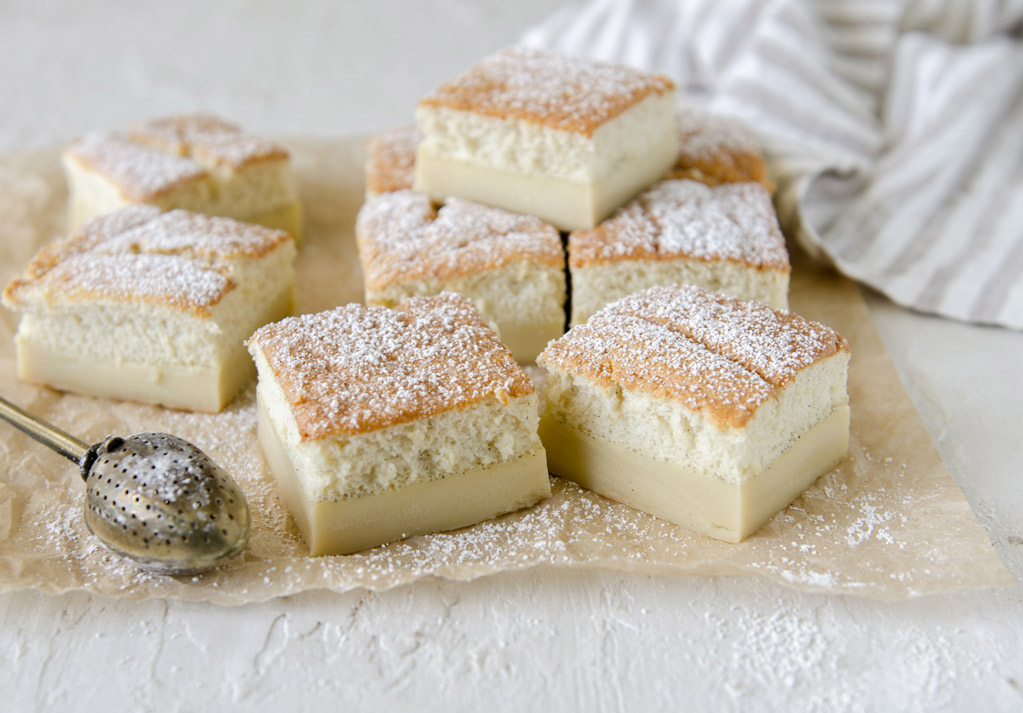 And there we have it! If you haven't already started, we encourage you to bake your way through this delicious selection, as well as checking back through the 2016 list for more inspiration.
Already ahead of the baking game? Browse through our latest recipes to find your new 2018 favourite!
For monthly recipe inspiration delivered straight to your inbox, along with product information, competitions and special offers, be sure to join our Queen Baking Club.