Welcome to the Queen Blog!
Be the first to discover new products, read interviews with inspiring bakers and stay up to date with new trends.
baking trends
Top Baking Trends for 2019
With the New Year fast approaching, it's time we put the hours scouring the depths of Pinterest and Instagram to good use and reveal our best guesses for the year ahead. We really know how to pick 'em here at Queen – just take a look at our 2018 baking and decorating predictions! Update: read our baking and decorating trend predictions for 2020!
Read more ›
Banoffee
12 Recipes to Spice up your Christmas
As November draws to a close and the weather starts heating up, it can only mean one thing: that first batch of Gingerbread Biscuits is only days away! Some people look forward to the presents, but here at Queen we're all about the festive baking. While we don't like to play favourites with ingredients (except Vanilla, shh) nothing tastes more like Christmas than a generous dash of fragrant cinnamon. Pavlovas, cheesecakes, rum balls and even banana bread – cinnamon adds that extra little touch of holiday spice. To help inspire your best ever season of festive baking, read on for our top 12 cinnamon-scented holiday recipes!
Read more ›
bake fail
We're For Baked Goods and Good Enoughs
Here at Queen, we'll be the first to admit that we only tend to feature our recipes at their very best. But we'll let you in on a little secret: our test kitchen bakes are often far from the perfect sponges and cheesecakes that stare back at you from social media! We've had our fair share of bake fails, from forgotten cakes, cracked pavs and the dreaded over-whipped cream. But we can absolutely guarantee that our recipes will taste pretty darn good, even if yours doesn't turn out exactly like the picture.
Read more ›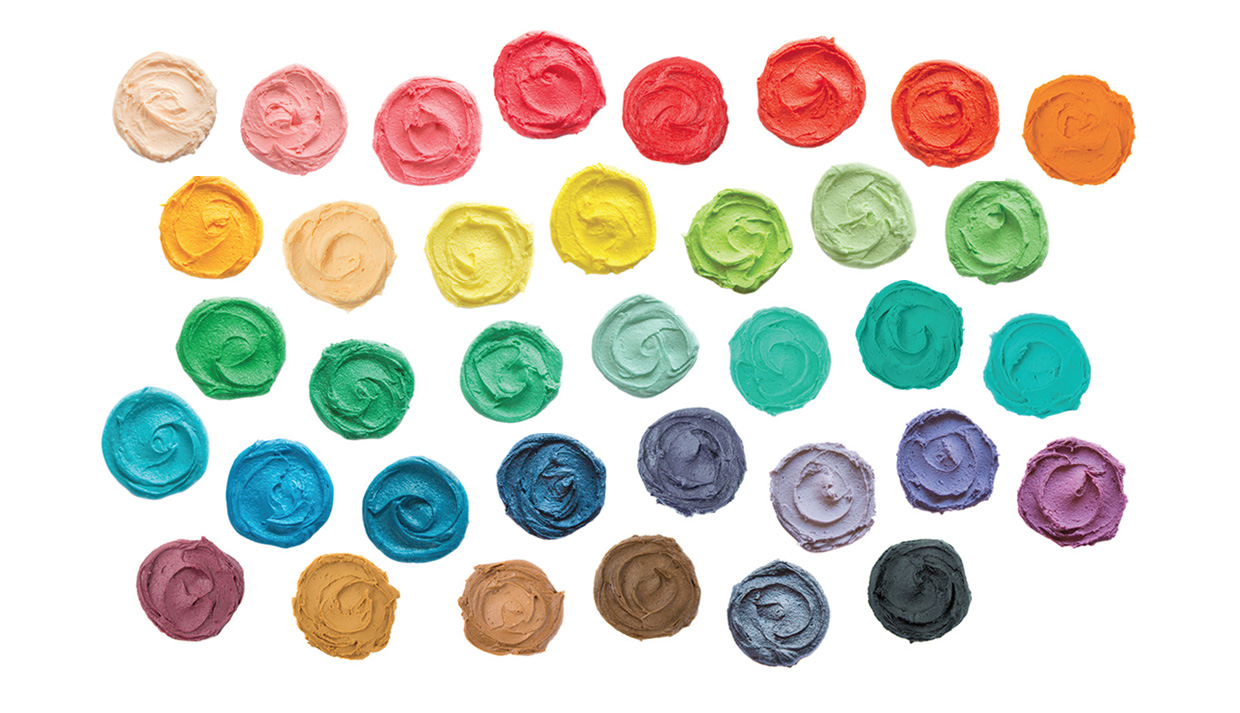 Creative Palettes with Queen Food Colour Gels
Creating those hard to mix shades of buttercream is one thing, but putting them all together into a themed cake is quite another. Our handy video explores how to match shades together to create, ocean, sunset, jewel and woodland themed cakes. To replicate the shades, simply read below and refer to our Food Colour Mixing Chart. 
Read more ›
Chocolate
The Best Chocolate Cake Ever
Here at Queen HQ, it's not always a fight to the death between vanilla and chocolate! We still appreciate a good slice of chocolate cake, and vanilla is a fantastic 'supporting ingredient' to help elevate the rich, earthiness of chocolate and minimise the bitterness. But not all chocolate cakes are created equal – from light, fluffy sponges to dark, rich mud cakes, calling out 'the best' seems like an impossible task.
Read more ›
Baby Shower
Another 10 Baby Shower Cakes that are Totally Worth the Effort
Here at Queen, we strongly believe that every important celebration should be marked by an incredible cake. While Pinterest is often the place to start for inspiration, a quick search for baby shower cakes reveals all the same old pastel fondant options – boring! Instead, we've done the hard yards for you to round up ten stunning and far more original cakes that are totally worth the effort, with a few hot Queen tips thrown in for good measure.
Read more ›
Chocolate
What's so magic about Magic Cakes?
From classic vanilla and chocolate to more adventurous matcha and even mermaid flavour (yes, you read that right) Magic Cakes are an internet favourite. But what on earth is the secret behind those three delicious layers, created from one simple batter?
Read more ›
Berries
Our Top 10 Baking and Cake Decorating Trends for 2018
Here at Queen HQ, we see baking trends move as fast as fashion and interior trends. Join us as we look into our cake crystal ball and unveil our predictions for the top baking and cake decorating trends of 2018. They are bursting with flavour and beautifully simple! Already on top of the 2018 list? Be sure to check out our fresh new 2019 Baking Trend Predictions and 2019 Cake Decorating Trend Predictions! 
Read more ›