Magic cakes have been around for a while now, dominating our Pinterest boards circa 2015. Since then, we know you, our Queen Bakers have become entranced by this mysterious recipe and added it to your regular baking repertoire.  Our famous Vanilla Custard Magic Cake was your most loved and baked recipe in both 2016 and 2017 and for good reason – it's equal parts magical and easy!
This nifty recipe creates three completely different textural layers using basic, pantry staple ingredients and just one batter. While it looks like a high effort, multi-step cake, this one-pan-wonder actually requires very little elbow grease or washing up.
Spoiler alert: the magic can be explained by a little baking science (skip this paragraph if you want to remain a believer!) The thin, wet consistency of the batter is baked at a much lower temperature than a usual sponge cake. This allows it set very slowly, giving the ingredients time to separate into three layers based on their density. The layers will vary in thickness based on your oven temperature, so we advise double checking with an oven thermometer for perfect results every time.
While our Vanilla Custard Magic Cake has become a tried-and-true classic, we've rounded up a few other flavour combinations that are worthy of a try. Bake them for yourself and watch the magic happen!
With such simple ingredients, vanilla choice is absolutely key to mastering this Magic Cake. We've used Queen Vanilla Bean Paste to deliver maximum flavour, with the bonus of beautiful black vanilla bean flecks.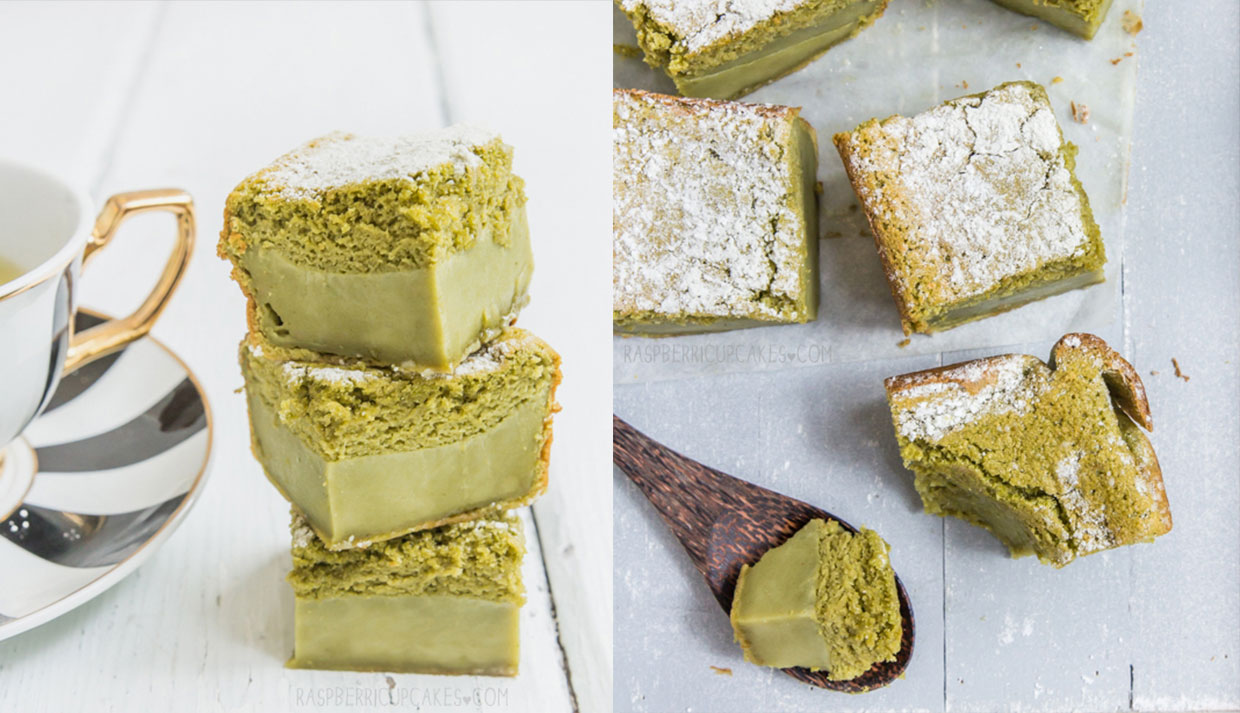 Matcha has been a huge baking trend over the past few years, so we weren't surprised to see it pop up in this mean green Magic Cake. You can find matcha powder at T2 Tea stores in Australia.
We've kept this one a little hush-hush… But as our new Mermaid Magic Flavour for Icing hits shelves this month, we couldn't help but use it to whip up an enchanted under-the-sea Magic Cake.
Coming into autumn, we're so looking forward to baking with our favourite warming spices like cinnamon, ginger and cloves. This Gingerbread Magic Cake is definitely on our must-bake list!
The light, bright flavour of fresh lemon juice and zest work perfectly in a magic cake. Delicious with a scoop of vanilla bean ice cream for dessert!
Since our vanilla version was such a knock out, we created a version for the chocolate lovers out there that tastes just like a Coconut Rough. One of our Queen Bakers suggested a delicious icing to accompany it:  combine 1 cup (150g) icing sugar and 1/4 cup (30g) cocoa in a bowl, then add 50g of room temperature butter and 1 tablespoon of milk and whisk to combine. Once smooth, spread it over cake and top with a sprinkling of desiccated coconut to finish.
This one is a no-brainer. Everything tastes better with Nutella!
Have you tried any of our Magic Cake recipes yet? Be sure to leave a rating and a comment to let us know how you went!
For monthly recipe inspiration delivered straight to your inbox, along with product information, competitions and special offers, join our Queen Baking Club.