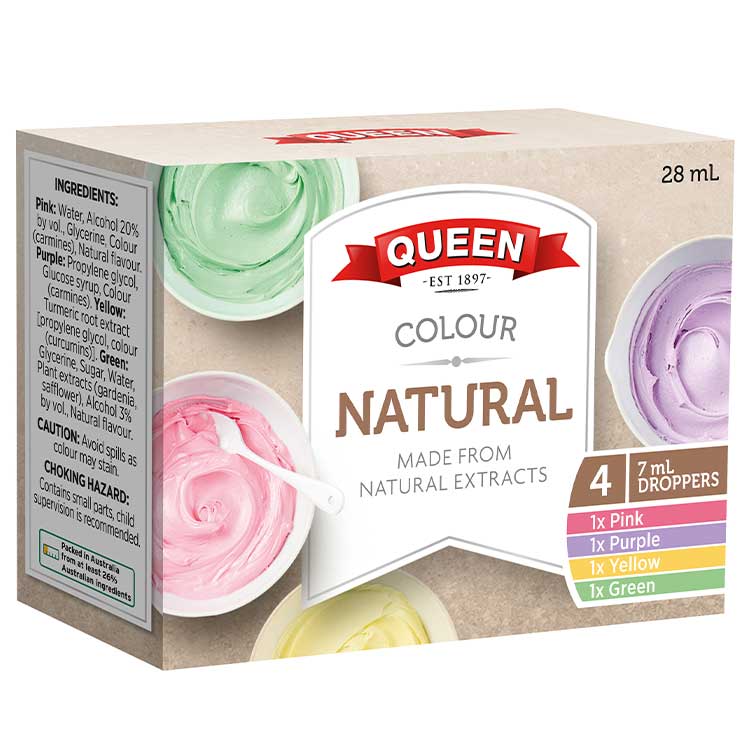 Rainbow Natural Food Colours (4x7ml)
Description
Queen's Natural Extracts provide a natural way to colour desserts, drinks, icing. The pack contains all natural food colours in green, pink, purple and yellow. Our unique dropper vials make the colours easy to use, and each vial has a convenient colour matching lid for easy identification.
Ingredients
Cherry Pink: Water, Alcohol 20% by vol.,
Glycerine, Colour: Carmine; Natural Flavour.
Purple: Propylene Glycol, Glucose Syrup, Colour: Carmine.
Wattle Yellow: Turmeric Root Extract [Propylene Glycol,
Colour: Curcumin].
Garden Green: Glycerine, Sugar, Water,
Plant Extracts from Gardenia and Carthamus, Alcohol 2% by
vol., Natural Flavour.
Allergens: NIL
Nutritional Information
| Serving Size: 1 mL | Avg. Qty. per Serve | Avg. Qty. per 100g |
| --- | --- | --- |
| Energy | 7 kJ (2 Cal) | 740 kJ (177 Cal) |
| Protein | LESS THAN 1 g | LESS THAN 1 g |
| Fat, total | 0.0 g | 0.0 g |
| … saturated | 0.0 g | 0.0 g |
| Carbohydrate | LESS THAN 1 g | 5.0 g |
| … sugars | 0.0 g | 0.0 g |
| … sorbitol | LESS THAN 1 g | 21.1 g |
| Dietary fibre, total | 0.0 g | 0.0 g |
| Sodium | LESS THAN 5 mg | LESS THAN 5 mg |